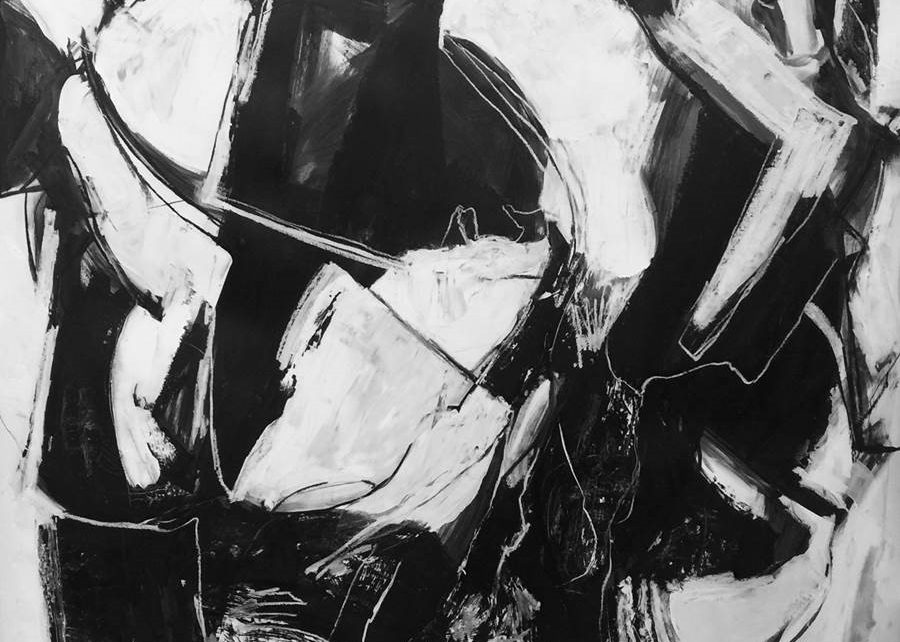 The Art of Displaying Art
By: Pam Stasney and Kelsie Lally
March madness isn't the only game in town.  This month we are prepping for a happening of our own.  Our Geneva location, Haven Interiors Studio, is partnering with Cultural Connection for an exhibit of original paintings from four highly regarded local Chicagoland artists:  George Shipperley, Ted Stanuga, Corey Postiglione and Kathie Shaw.  The exhibit, titled "ARTiculation – a visual dialogue by four artists," explores the innovative and diverse creativity each artist brings to their work.  Together, they generate a visual dialogue, inviting viewers into a subjective conversation.   The exhibit runs from March 16th through May 26th.  Please join us March 22nd, from 4:00-7:00pm for an Open Exhibit Reception at Haven Interiors Studio, 15 S. 3rd Street, Geneva, IL  60134.  Meet the artists, view pieces, take a curator-led tour of the art and enjoy music, appetizers and refreshments.
Blissfully surrounded by stunning original art in both of our studios, we wanted to share the love with our blog readers by offering a few tips on displaying art.  In the past we've talked with you about our design philosophy:  We've told you "there are no hard, fast rules… surround yourself with things you love" and "rules are made to be broken."  However, when it comes to hanging art, we believe in following a couple of simple guidelines:  Prints and portraits should be hung at eye level (the average person's height is approximately 5'6"-5'8").  Paintings installed as a singular statement should be proportionate to the wall's width and height.  Grids should be evenly spaced.  Gallery walls work best if the space between each piece is approximately the same on all sides, give or take a couple of inches.  It's about balance.  Think of how art is shown in an art gallery or museum.  All we ask is please, please don't hang art too high.  Art should be displayed at a height where it can be fully appreciated.
Here are three of our favorite ways to display art:
1. Make A Statement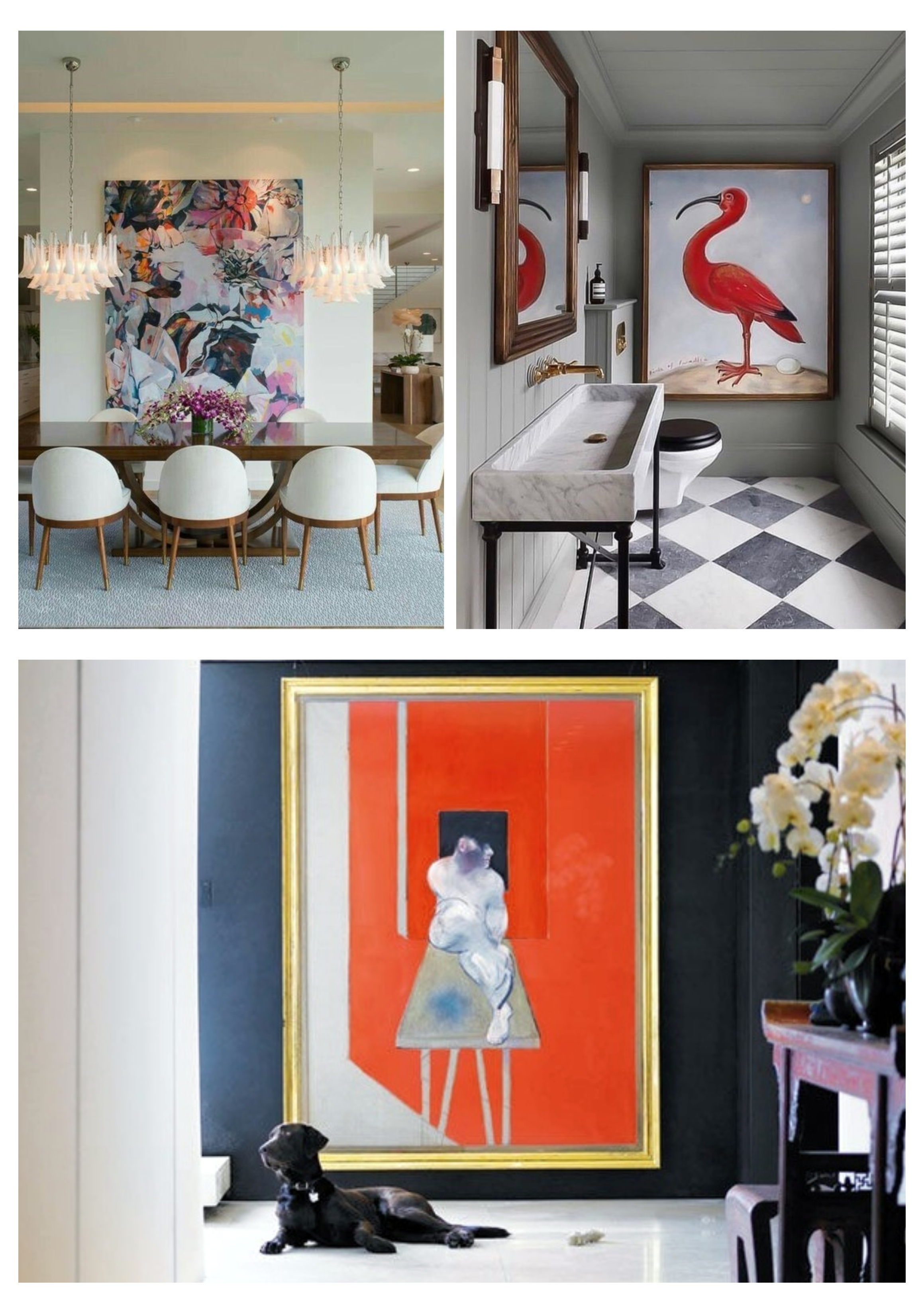 When you own brilliant, original works of art, we highly recommend going big.  One piece hung strategically will arrest the attention of visitors and home dwellers alike.  Background wall colors can be painted deep and dramatic hues or airy and neutral tones, depending on the desired effect.  Ensure each art piece is properly illuminated, either with hidden spotlights or picture lights.
2. Go for the Grid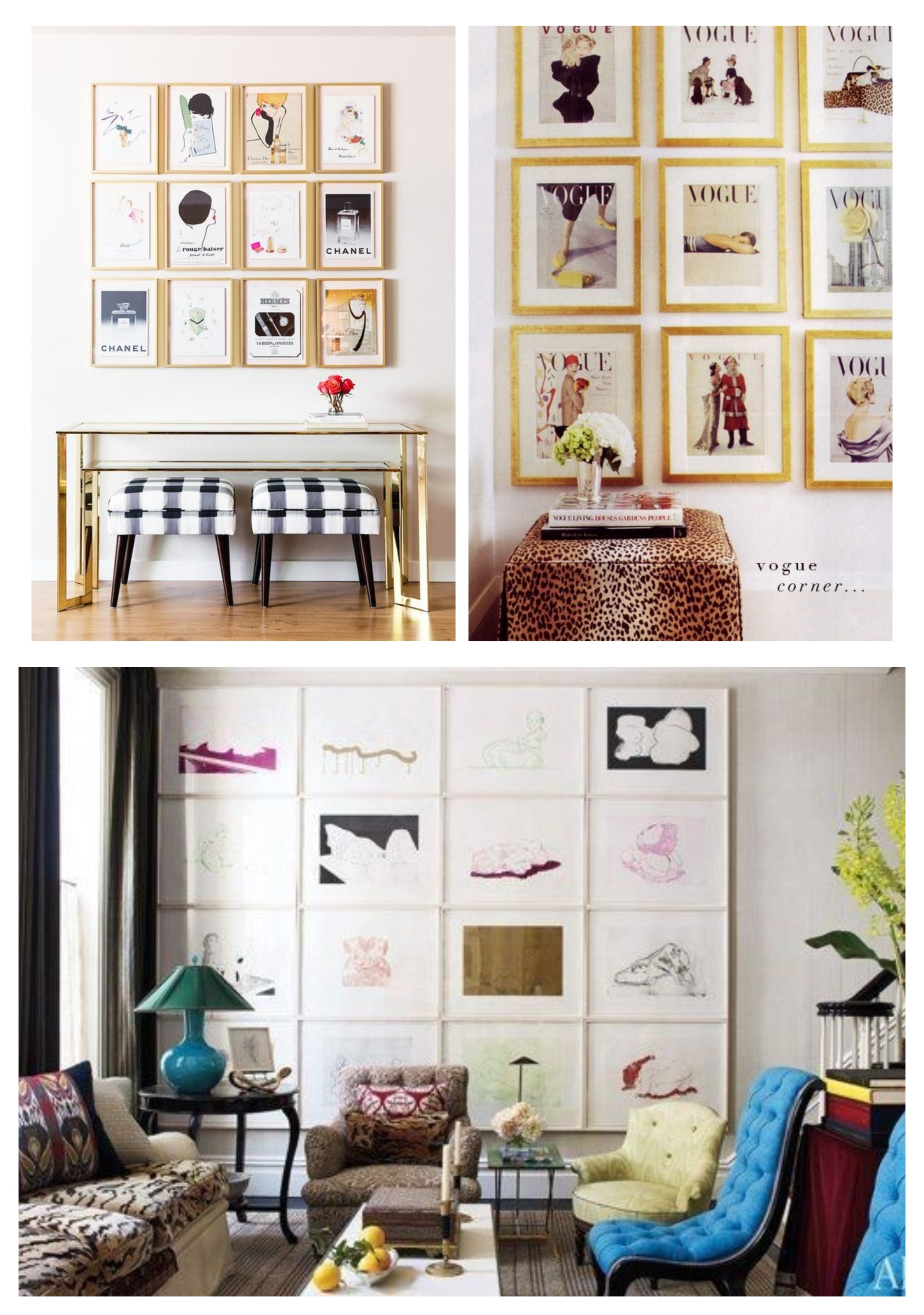 For those who love symmetry and for anyone who has a collection of prints or original art, creating a grid is the answer.  Although it takes measuring twice and a bit of mathematics, the impact is worth the extra effort.  When hanging a grid, uniformity is key.  Frames should be identical and should be clean-lined, nothing too fussy.  It's all about the art speaking.  Remember a grid of individual pieces creates one larger unit visually.  Make sure to balance color, type-design and negative-space when configuring a grid display.
3. Build a Gallery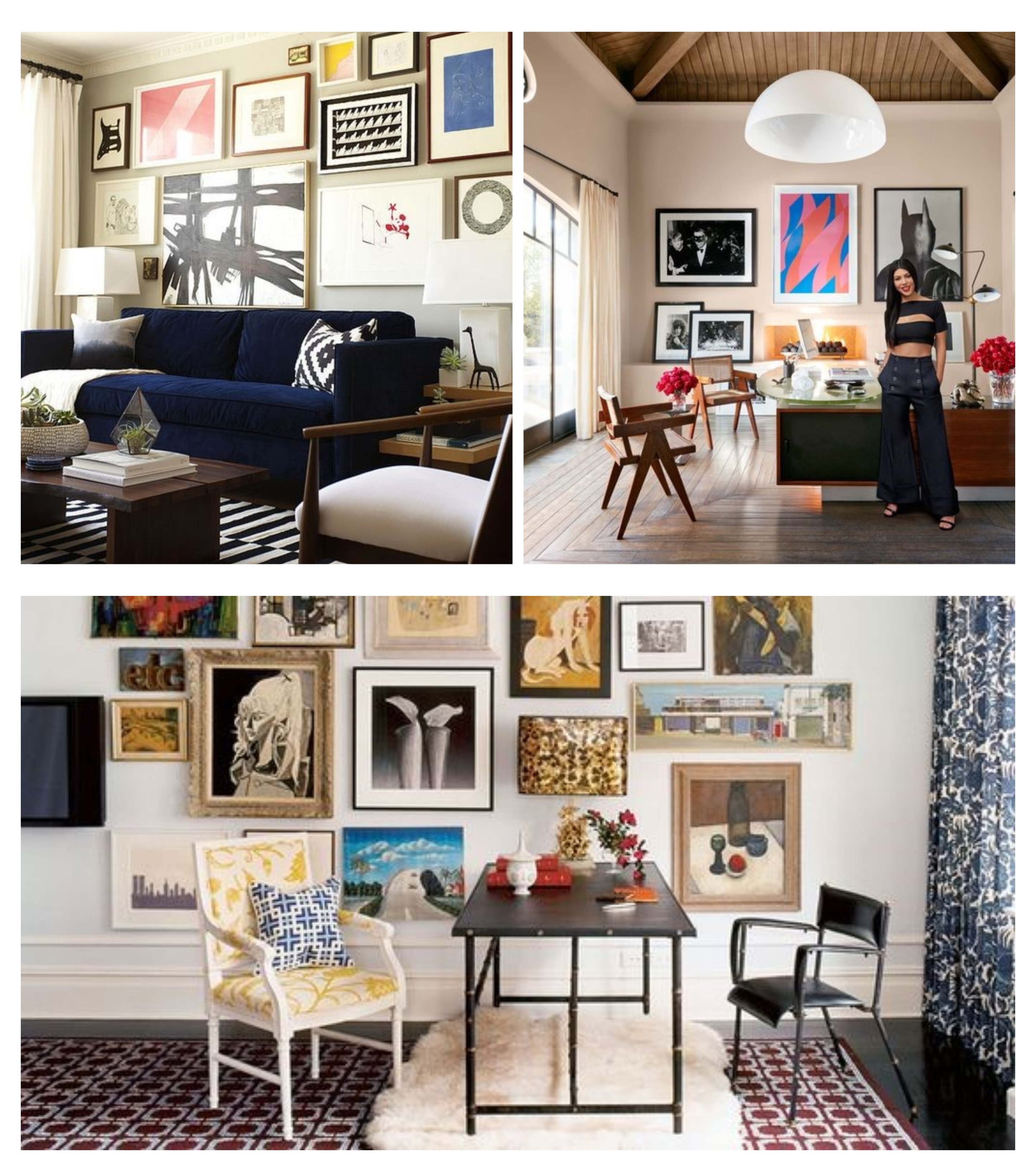 When building a gallery-style art display, we love mixing colorful pieces with black and whites for visual balance.  Try combining black and white photography with pastel paintings.  Or mingling graphic charcoals with vivid oils to create a striking exhibit.  This type of arrangement calls for unleashing creativity.  Mix frame styles and mediums, mingle vintage with new.  Anything goes.  Wall décor this rich and diverse will keep conversations flowing.
Here is a sneak peak of a few art pieces from our exhibit.  We hope to see you soon!  Please RSVP 630-402-0444.