Here's what Haven Interiors Ltd. can do for you.Contact us
We truly believe the very first thing we can do for you is listen – listen to what you need, what you want, how it feels, what you already know and what you don't know. We want to listen to everything you can tell us, about yourselves and about your project.
As a full service design firm, with a highly knowledgeable staff of experienced professionals in every capacity, we are extremely well prepared to participate with you in this exciting process! Your Haven designer has the support of everyone on staff, all willing to work together to develop solutions for our clients. Our work environment is one that fosters open communication and the sharing of ideas. Meeting your expectations is paramount. Finding the balance, and exceeding your expectations, presenting you with a design of lasting value, is our ultimate goal.
In addition to the staff at Haven, we continue to develop our list of trusted resources, that cover every need from construction to painting and wallpaper hanging to electrical and motorized shade systems. The list is truly endless – a list we are constantly adding to, based upon people we have worked with and trust.
And so when asked, what can Haven do for you? We can listen. We can make sure we are sharing the same vision. And then stretch that vision into something even more beautiful.
AWARD WINNING DESIGN SERVICES

Haven Interiors has won several design awards and was recently awarded with the Best of Houzz award.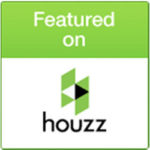 Haven Interiors is featured on Houzz.com in an article describing and showing images of how you can use your kitchen island as a dinning location. "How to make your kitchen island your new favorite dining spot".
How you should look at the design process
We don't believe in moving to a new place and replicating the one you left behind.  Where's the fun in that?
Creativity is, without a doubt, a valuable asset in almost any situation. It is understanding the flexibility needed to remain in control, while perching at the edge of a breakout. In design, we look for that edge as we work through the discovery process – seeking the right style, color, balance and proportion. And then there is the addition of that one other unique element that, when the results are rolled out provides evidence of the joy involved in the process.
We listen to and respect any and all information you bring to the table. Trusting your judgement, and your ideas; and then trusting your design team to understand and aid you in interpreting those visions and making them real – that can ultimately separate the dazzling from the mundane.
A room should never allow the eye to settle in one place.  It should smile at you and create fantasy.
Your eye skims a room – and then it comes back to a particular spot, where it lingers perhaps a bit longer. That focal point can be anything from particularly quiet and restful, to bold and magical. The texture of the stone fireplace with the perfect piece of art above; the table with the large bowl, the gnarled piece of wood, the smooth and worn stone you brought in from a walk; the lamp positioned in the corner that looks like a sculpture – all of these elements become more valuable as they become highlighted, and this sets the tone for everything else.
The task of the designer is to determine what can actually carry the role of the focal point, and where that might be. Multiple focal points can be especially exciting, moving the visual senses around the room. While they take their place effortlessly, they are anything but random. It comes back to the trained eye of the designer. First absorbing the overall presentation, then sensing the balance and the details. In the end, it should smile at you, and the friends and family you bring into your room.
It's all in how you arrange the thing…the careful balance of the design is the motion.
If it's done properly, balance goes unnoticed by just about everyone. That's perfect. That's the way it should be. Like a symphony, where each note comes in at the precise moment, connecting to the next note. A flow of "notes" can fill the spaces of your home, connecting not only the elements of the room, but connecting one room to the next. Should something be out of balance, you see it almost immediately. 
It is why you feel the need to straighten a picture on a wall, or even slightly move something when it is off center. Balance is an easy feeling that flows through the eye and actually makes you feel calmer. Balance flows through the eye of an experienced designer like a sixth sense. The final 'balancing' makes your room, or your home, complete.
If you love something it will work.  That's the only real rule.
Sometimes, the design process is solving problems and connecting pieces that have little or no relationship with each other. Actually, that's when the fun begins. Pablo Picasso, Frank Lloyd Wright, Steve Jobs – they are prime examples of people who pushed everyone's notion of what 'had to be' to what 'could be.'
Design is the sum of elements including: creativity, balance and focal points – going from the broader vision, to the small detail. No rules; just the desire to create an atmosphere where you can find time to share moments with your family and friends, or simply to escape for a few moments.
The details are not the details, they make the design.
Each and every time we begin the delivery of a single room, or an entire house, it begins with the furniture – all the rugs and big pieces come in and are set in place – and no matter how much time or money have gone into that space, it is just a space…with furniture. Then, we begin to design the room. One item can provide an initial vision for an entire room. One item can also be the last thing to come into a space, joining every other element large or small – and that last piece fulfills the promise of what the space could be – of what that room now is.
The details must feel right, without being too obvious. There may be one, or many, that you have brought with you as part of your personal history. And while they are placed very specifically, once again, they complete your room in such a way as to seem effortless – and also seem very you. That's the goal – and that is how important the designer's attention to detail becomes in your design process. In truth, they do make the design.
ADDRESS
1457 N. Farwell Avenue
Milwaukee, WI 53202
EMAIL
info@haveninteriorsltd.com
Second Location:
200 S. 3rd St
Geneva, IL 60134
630-402-0444